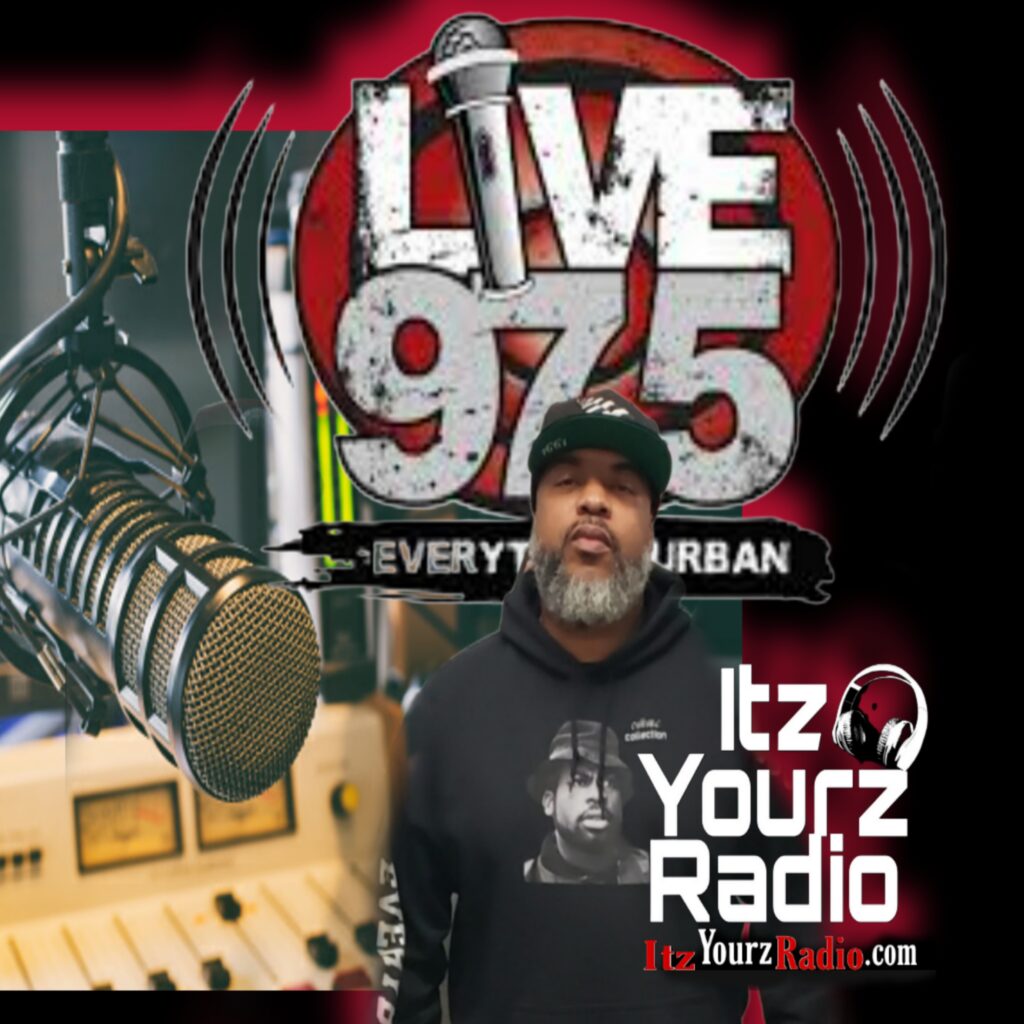 Dondre' "Donni-Oh!" Phoenix
Board Member

Through his 28 year journey in radio and beyond, Dondre' "Donni-Oh!" Phoenix has quietly made an impactful career, both locally, as well as nationally.
Believe it or not, in March of 1994, just to get his foot in the door, Phoenix started out as a weekend on-air personality on WCEM Continuous Country AM-1240 in Cambridge, MD. He then moved over to its sister station, Mix 106.3 From 1995-1998.
During these years (1994-99), starting at age 23, he wore many hats outside of radio, owning a clothing store (Flavaz in Easton, MD) for several years, playing with the Atlanta Hawks NBA Summer League team and playing in several pro basketball leagues as well. The teams included the Columbus Horizon (CBA), Quad City Thunder (CBA), Lehigh Valley Lightning (ABA) and the Long Island Surf (USBL). A newborn daughter had arrived and he had gotten married. Later, a son was born as well. So yeah, needless to say, the young guy's plate was stacked.
In 1999 Phoenix moved on to Magic 98.9 in Salisbury for two years, before moving to Philadelphia to assist with public relations for his friend and college basketball (University of MD-Eastern Shore) teammate Mike Harris' entertainment management company, BEST Sports & Entertainment (now Best Sports Consultants).
Through the experience and network connections while with Best Sports Consultants, in 2000, Phoenix launched Flavaz Promotions.
"Mike is the consummate professional. He taught me a lot about relationships and how very important it is as it pertains to business", says Phoenix.
They organized, provided entertainment and product placement for events in the Philadelphia, Baltimore, Washington, DC and Salisbury, MD areas.
From 2002-2004 Flavaz Promotions provided gift bags for the nominees at the BET Awards. In 2008, Flavaz also organized "A Tribute To Bernie Mac Comedy Show" hosted by legendary comedian Chris "The Mayor of Rap City" Thomas and headlined by Reginald "Bruh-Man" Ballard (Martin, Bernie Mac Show).
"I interviewed Chris when I had my show on XM. We exchanged numbers and stayed in contact through the years. I hit him up about him putting together a comedy show for me and he said, say no more… and he made it happen. It was an incredible honor to do the show in tribute to the legendary Bernie Mac. Reggie "Bru-Man" provided various items of Bernie Mac's to "raffle-away" at the show. It was absolutely incredible!", says Phoenix.
Rewinding back just a bit, in June 2002, Phoenix was hired as a mix show DJ at "The Flow" on XM Satellite Radio in D.C. Sept 2002 he became the host of his own show, The Essence, on The Flow channel, weekdays 4pm-9pm.
He became assistant music director of "The Flow", Sept 2003.
With the merging of Sirius and XM in 2008, now SiriusXM, the Flow's channel name was changed to Heart & Soul.
In May 2004, Phoenix went on to WPGC 95.5 to do overnights.
Upon his return to Salisbury's Magic 98.9 in February 2006, he launched ItzYourzRadio.
"After being at several different radio stations and seeing multiple program formats throughout the industry, I had seen a void in regards to consistently recognizing local/unsigned talent", says Phoenix.
So his intent with ItzYourzRadio was to, in part, provide a platform for local/unsigned recording artists to display their talents.
With ItzYourzRadio on Magic 98.9, Phoenix coordinated a show that would spotlight local/unsigned artists. Phoenix played their music and interviewed select talent as well. It enabled the local area to become familiar with and support some of the talent who were within the untapped local music scene.
As the platform grew, it went beyond local artists and included national and international recording artists who were unsigned.
In June of 2015, Phoenix launched his own internet radio station through Tunein. October of 2020, he moved the station to a different server and became certified with BMI, ASCAP and SoundExchange. That certification allows the artists who are registered with them to receive royalties based on the amount of radio spins the artists receive on ItzYourzRadio.
ItzYourzRadio is also monitored by Digital Radio Tracker (DRT), which tracks and records each song that is played. The DRT charts are the most popular monitored source for digital radio stations in the world.
Dondre' "Donni-Oh!" is also a member of the Heat DJ Coalition. The Heat DJ's CEO is The Flipmode Squad's Rampage (first cousin of Busta Rhymes). The international DJ coalition promotes, markets and provides radio platforms for major and indie artists, internationally.
February 26, 2017 ItzYourzRadio returned to FM with "ItzYourzRadioLive" on Live 97.5 in Salisbury, MD. Phoenix continued its same local/national unsigned recording artist spotlight segment. Hosted by Dondre' "Donni-Oh!" Phoenix added more talent to the platform, which includes co-host, Jonathan "J-Mo" Molock, two DJ's (DJ Cheese and DJ Randy P), a sports reporter (Devon "POV" Mason), specialty segments saluting musical legends and guest interviews, both locally and nationally.
"One thing that I have always done is give people an opportunity. Someone gave me an opportunity…. Ron Banks believed enough in me to bring me onboard when he decided to launch Live 97.5 FM… If I'm in position to eat, so are my people," Phoenix says.
Some of the local recording artist guests have included Devon Beck, LegaCi, Fatal Da Cannon, King Aboriginal, Loreal Lewis, SB, Hots, Uncle Nitty, Jade and more.
Local authors on the show have included Lewanda Jackson, Michelle Boulden-Hammond, Robin Lake, Etta Bland, Ty Bolden and more.
National interviews have included Judge Joe Brown, Emory Jones (Rocnation Apparel), Eric Nolan (of the legendary O'Jay's), Agnez Mo (International Pop Star), Monifah (singer and R&B Divas reality show star), Wes Moore (author and Maryland governor candidate), Daniel "Booby" Gibson (former NBA player and TV Reality star), Ochino Sparks (hip-hop artist formerly of Rocafella Records), Smooth B (hip-hop artist from the legendary group Nice & Smooth), Bill Pettaway (legendary music producer), Rampage (hip-hop artist), Special Ed (hip-hop artist), Edo G (hip-hop artist), Positive K (hip-hop artist), MC Shan (hip-hop artist) and Simone Green (former Chief Photographer of Death Row Records), amongst many others.
During the 2020 election, ItzYourzRadioLive utilized its platform to allow local candidates to share their message. ItzYourzRadioLive's Jonathan "J-Mo" Molock, currently a Baltimore resident, but a Cambridge, MD native, is heavily engaged in the social and political activism of his hometown Cambridge, MD. For the 2020 local elections, he was on the campaign team of LaJan Cephas.
"We discuss politics quite often on our show, but we wanted to get more involved and become more engaged in the political process. I became a member of the National Black Agenda Consortium and Talbot Rising, two social activist groups. Jonathan led an effort to hold local slumlords accountable and joined city council candidate LaJan Cephas' campaign team", Phoenix says.
ItzYourzRadioLive allowed several candidates to come on the show and share their proposed policies. ItzYourzRadioLive also opened the phone lines and allowed listeners to call-in to voice their concerns and ask the candidates questions. It bridged the gap between candidates and the community, which allowed the voting community to have some input into the voting process. Through ItzYourzRadio's social activism and its relationship with one of Wes Moore's campaign members, Jahan Manokey, ItzYourzRadio was selected as Maryland Governor candidate, Wes Moore's media partner/ambassador for the Eastern Shore.
During the election process, ItzYourzRadioLive began to see the impact of their platform and its influence beyond politics.
ItzYourzRadioLive receives several letters from listeners who are incarcerated. ItzYourzRadioLive would always send a shout-out to those who are incarcerated, particularly ECI and SCI, located in the Salisbury, MD and Lower Delaware areas.
Even when he was at Magic 98.9 several years ago, Phoenix would talk to formerly incarcerated men that he knew and they would share with him the impact that ItzYourzRadio had on them. Being that he knew many incarcerated, "behind the walls", were tuning into the show, he made it a priority to recognize them and to give them some words of encouragement.
Phoenix opened up his show to allow those who are incarcerated to send in poems to read on the air and even give their own shout outs through letters, if they'd like. Just allowing them to have a voice through his platform.
One letter in particular really moved Phoenix and crew. It was sent in by Charles Connors. While most deserve to be incarcerated based on their crimes, many should receive no sympathy. However, some are really good people and may have made some bad decisions along the way.
Then there's a percentage that are simply getting screwed by the system.
Here are portions of Charles Connors' letter:
"Dear ItzYourzRadio, First and foremost I send my utmost respect to you and yours. I want to send sincere and complete gratitude for what you guys do for me every Sunday with your show. It is the highlight of my week for real."
"I'm serving a 32 year sentence for forgery and 2nd degree assault. I know it's crazy right? Only dude I know in here with 30+ years and doesn't have a body."
"I feel if you're a public figure, in any capacity, you need to make a positive impact or you're not utilizing your platform to its full potential", says Phoenix.
For airplay consideration, unsigned recording artists, send your music to: [email protected]
If you're an author and have a book to promote, email us your information for interview consideration to:
[email protected]
If you are involved with a community organization and would like to promote your services, send us your information for interview consideration to:
[email protected]
* ItzYourzRadioLive airs on Live 97.5 FM every Sunday 4pm-7pm. If you're not in the local area, you can listen via any mobile device at live975.com or searching Live 97.5 on the Tunein app.
You can follow everything ItzYourzRadio, including guest schedule, past shows, articles and the "24/7 ItzYourzRadio" radio station at itzyourzradio.com
Here's a timeline, "snap shot", of the athletic and musical bio of Dondre' "Donni-Oh!" Phoenix.
Donni Oh's entertainment career achievements:
1989 – Donni-Oh!'s "Flava" mixtape series began through 2001
1993 – Attended the Columbia School of Broadcasting
1995-'03 – Owner of Flavaz Urban Wear (Clothing Store)
1995 – Evening on-air personality at Mix 106.3 FM (Cambridge)
1999 – Mid-day on-air personality on Magic 98.9 FM (Salisbury)
1999-'02 – Public Relations assistant at B.E.S.T. Sports & Entertainment (Philadelphia)
2000 – DJ for Egypt, Boyz II Men, Big Tiger & Friends Celebrity Party in Baltimore
2001-present – Launched Flavaz Promotions
2001 – Organized NBA Star, Theo Ratliff Basketball Camp
2001 – Assisted with NFL Star Terrell Owens' feature on ESPN's The Life
2002 – DJ for NBA star Rasheed Wallace's NBA All-Star Party in Philadelphia
2002-04 – Afternoon drive on-air personality/asst. Music Director on Sirius/XM Satellite Radio (DC)
2006-'09 – Host of ItzYourzRadio on Magic 98.9 FM (Salisbury)
2008 – Organized A Tribute to Bernie Mac Comedy Show
2009-present – ItzYourzMedia (TV, radio, internet, voice-overs, production)
2015-present – Launched ItzYourzRadio (Urban radio format) on Tunein
2016-present – Launched Soul Talk 100 (Black talk radio format) on Tunein
2017-present – Joined Live 97.5 FM to re-launch ItzYourzRadioLive on FM
Donni Oh's sports career achievements:
1988 – Five-Star Basketball Camp All-Star
1989 – McDonald's High School All-American
1989 – Maryland High School All-State
1989 – Kenner League (Pro-Am Summer League)
1990 – All-MEAC (UMES)
1991 – University of MD-Eastern Shore Male Athlete of the Year
1993 – Atlanta Hawks (NBA Summer League)
1993 – Columbus Horizon (CBA)
1994 – Quad City Thunder (CBA)
1994 – Lehigh Valley Lightning (ABA)
1999 – Long Island Surf (USBL)
1999 – Kenner League (Pro-Am Summer League)
Dondre' "Donni-Oh!" Phoenix
EXECUTIVE PRODUCER:
Ricardo Williams – "He Ain't Me"
produced by Grammy Award winning producer Kyle West
Currently available for all Program Directors and DJ's
NOW AVAILABLE:
AWARD WINNING SINGLE
Charted at #11 on The Top 150 DRT Global Independent Airplay Singles
In rotation on 60+ radio stations (Oct 2020 – March 2021)
Ricardo Williams – "Come Over"
Available on TIDAL https://tidal.com/browse/track/156734305
PROGRAM DIRECTOR:
*ItzYourzRadio
Real Radio Is Back 24/7 LISTEN HERE: http://itzyourzradio.com
*Soul Talk 100
Real Talk For The Soul 24/7 LISTEN HERE: http://soultalk100.com
*ItzYourz411
Daily News 24/7 CLICK HERE: http://itzyourz411.com